Welcome!
Welcome to the online home for the Hanover Historical Society, stewards of the past for the City of Hanover, Minnesota.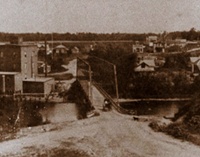 The mission of the Hanover Historical Society is to identify, preserve, and disseminate knowledge about the history of Hanover through collections, preservation, distribution of historical information, as well as advocate for preservation of historic buildings, monuments and markers.
Young and old comprise our membership as well as new residents mixed in with life-long Hanoverians. Take an active role in activities or assist behind the scenes if that's our comfort level. Yearly membership is only $12.
To learn more about the Hanover Historical Society, browse this site and use the membership pages to find information and forms.
---
The 3rd Annual Antique Vehicle Show at the Hanover Harvest Festival was a tremendous success for exhibitors and patrons alike!
As part of the Hanover Harvest Festival, the Hanover Historical Society sponsors the Car Show for this wonderful yearly community event.
For 2013, we moved the event to the corner of 5th St. and C.R. 19 - just North of the Fire Station.
We changed it around a little too - opening the event up to ANY TYPE of antique or classic vehicle or engine, and gave away trophies.
We would like to thank:
O'Reilly Auto Parts - St. Michael branch and store manager Ryan Suckow supplied all the trophies!
Di-Mon Graphics - Diane Ingalls helped us out big-time by supplying screen printing services for the event t-shirts!
Local Boy Scout Troop 563 - they supplied great food and refreshments the day of the event!
Here's some photos from this fun event over the years:
---
---
The 9th Annual Caroling at the Historic Bridge Will Ring in the Holiday Season
If you were there last year, we hope you had a great evening. Here's a few photos from this wonderful event!
---
The 2013 Pumpkin Decorating Festival is Coming Soon
Click any thumbnail photo to get a closer look at all the fun! Then go to the event tab to learn about this year's event.