Welcome!
Welcome to the online home for the Hanover Historical Society, stewards of the past for the City of Hanover, Minnesota.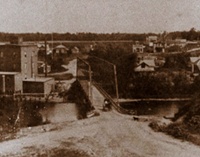 The mission of the Hanover Historical Society is to identify, preserve, and disseminate knowledge about the history of Hanover through collections, preservation, distribution of historical information, as well as advocate for preservation of historic buildings, monuments and markers.
Young and old comprise our membership as well as new residents mixed in with life-long Hanoverians. Take an active role in activities or assist behind the scenes if that's our comfort level. Yearly membership is only $12.
To learn more about the Hanover Historical Society, browse this site and use the membership pages to find information and forms.
---
"Planks of History" is released!
With the help of local businesses and residents, we've fully funded a second book that takes a closer look at the History of Hanover and the surrounding area.
Planks of History, authored by our own Secretary Mary Coons, is a book based exclusively on Hanover's historic pedestrian bridge and the history of the Crow River, and is available by contacting a member of the Historical Society, or can be directly purchased at BankWest, the River Inn, or City Hall.
The 5"x7" book will be an accompaniment to the bridge documentary film, whose focus is on modern history and bridge renovations along with the opening scene of the canoe reenactment of Jacob Vollbrecht first arriving in the area.
The Historical Society felt the book would be an excellent complement to the documentary with its slightly different slant.
As a tangible product, the public can own the book whereas the documentary will not be sold but can be viewed below.
Our first commissioned book, "Safe From the Outside World", is nearly out of stock. Contact us today to get one of the few remaining copies!
---
Documentary Video Project!
We are also currently filming a documentary video on the history of Hanover and the surrounding area, with an emphasis on the Historic Bridge itself. This effort coincides with the writing and printing of the new book specifically about the bridge, but explores some of the historical events that took place before the bridge was erected, and documents the deck restoration taking place today!
---