Historic Bridge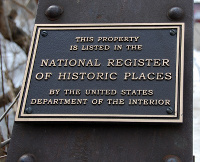 Bridge No. 92366

Pratt Through Truss 
Constructed in 1885
3rd Oldest in MN

---
The Hanover iron truss bridge was constructed in 1885 as a means of crossing the Crow River and connecting traffic.
Once the bridge linked the Hennepin and Wright County sides, quicker travel was possible. In 1909 a new stagecoach line from Rockford to Osseo via Burschville was created utilizing the bridge route.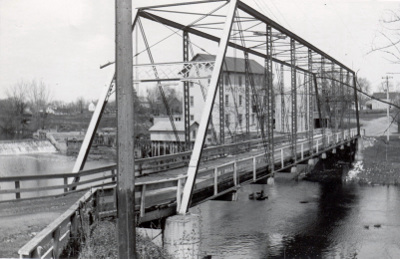 Historic Significance
The Hanover Bridge is a single lane, single-span, rivet pin-connected Pratt through truss of iron construction with a timber deck floor.
The Pratt truss – a structure composed of diagonal iron rods because of the structural stability of that shape and design – was patented in 1844 by railway engineers Caleb Pratt and his son Thomas Willis Pratt. Their design used vertical beams for compression and horizontal beams to respond to tension.
This type of bridge featured low-cost construction because the iron parts were made in shops, easily transported to the site, and the bridge could be quickly erected by semi-skilled labor.
Pratt through truss bridges remained popular even as wood gave way to iron, and even still as iron gave way to steel. In fact, it became the standard American truss bridge for moderate spans (25 feet to 150 feet) well into the 20th century.
Hanover Bridges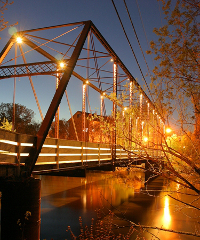 Motor vehicle weight restrictions were in place from 1943 to 1952. School buses stopped at one end; the children disembarked and walked across the bridge followed by the empty bus. At the opposite side, the bus reloaded before continuing.
A wooden stilt bridge was built in 1954 west of the iron bridge only to collapse in April 1965 from an early spring ice dam.
The iron truss bridge – which had been designated a pedestrian-only bridge in 1963 – was reactivated to traffic from April 1965 to December 1966 while the current concrete bridge 1500 feet to the west on County Road 19 was constructed.
Hanover Bridge No. 92366 is one of ten existing Minnesota Pratt through truss bridges and the third oldest listed on Minnesota's National Register of Bridges.